THE FORAGED HOME
There is an increasing focus on sustainable design. Reducing our own environmental footprint even when it comes to interior is something we MUST begin to relate to. The book "The Foraged Home" is therefore an important and up-to-date interior book as it celebrates both sustainability and design, presenting beautiful interiors filled with salvaged, recycled and repurposed objects from around the world.
Photographer Joanna Maclennan is the initiator of the book, and as a writer she brought her brother Oliver. Together they have traveled around the world and met and documented people with unique homes.
Artful home interiors are born from curiosity, creativity, and imagination, yet many of us fail to see a potential curtain rod in a bamboo stick or a kitchen counter in an old carpenter's bench. Joanna wants to show us that anyone can create a beautiful home without expensive pieces simply by foraging and salvaging. Discarded objects can be restored, recycled, or repurposed to fill any space with style. In an era when sustainability, living off the grid, and reducing our eco-footprint have never been more important or appealing, The Foraged Home will provide guidance and inspiration to those looking to go beyond the world of mass-produced products.
Presenting the techniques and philosophies―such as beachcombing, forest hunting, and urban salvaging―of savvy foragers from across the globe, this book showcases how they created comfortable and stylish homes by breathing new life into what most would consider waste
I talked to Joanna as I wanted to share with you some of her thoughts and experiences about the process of making the book. She says she wanted to create a book that would provide guidance and inspiration to all those who want to go beyond the world of mass-produced products. She describes it as a book full of down-to-earth people, in down-to-earth homes that are nevertheless all unique and out of the ordinary. It was important to Joanna that all contributors could identify with the values she defies in the book. That way, there is a similar thread in all the homes she showcases. It has really been a project from the heart, and I am so grateful to everyone who has participated.
A FAMILY PROJECT
Creating a book is a long slow process, The Foraged home took two years from start to finish, most likely there have been emotional ups and downs involved. Joanna and Oliver are, as mentioned, siblings, and I was curious how it felt working so closely with her brother over such a long time. Joanna describes it as fantastic. "The whole book was an adventure and travelling with my brother was also very personal as well. We laugh alot." she says. Her husband Mike was involved, helping with all the post production, and Deborah Beau also helped with research help. To Australia the whole family went together, Poppy their daughter came along also.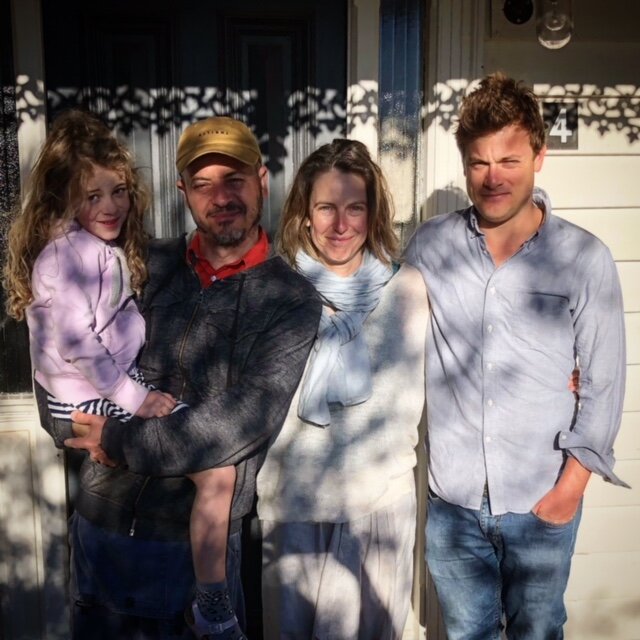 Going to Australia with all my family was just a wonderful and unforgettable experience. I really have enjoyed all the experiences that I have had doing this book.
Joanna describes it as a strange feeling having published a book. But she is extremely pleased with the result. The book has been a great success and she has received so lovely feedback from readers all over the world, and also some great reviews.

I am honored to be one of many contributors in this book. In addition, I am so pleased that both Heidi Bjørnsdotter Thorvik and Ragnhild Wik are also represented in the book. In the process of making the book, I became better acquainted with Joanna and also gained her confidence in developing the concept of Slow Photography and her new website. It has been a lovely experience.
The Foraged Home has an important message, but it is communicated in one a non-moralizing way that rather motivates you to have fun and to use your imagination. It is obvious that we have common values and this felt like an important book to participate in.

The books are published/will be published in 4 languages English, German, French and ItalianThames & Hudson, Editions Jonglez and Sievekling. They can be bought directly from the publisher and Joanna is selling signed copies of French/English editions. She also encourage people to buy from small independant bookshops.